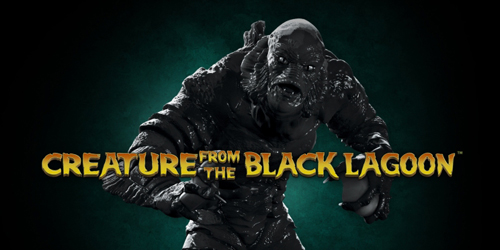 This uncommon slot game by the acclaimed NetEnt has been enjoying tremendous popularity on Bitcoin and real-money casino gaming portals lately!
The 5-reel 20-payline game is themed on the eponymous 1954 horror movie still valued by cinema connoisseurs, and it offers you a real underwater experience full of mysteries, with a set of original characters including Dr. David Reed, Carl Maia, captains Lucas, and Kay Lawrence. The exclusive features include Sticky Wilds and Spreading Wilds, plus there is Free Spins sequence as well, meaning there will be lots of different ways for you to grab a nice Bitcoin prize in this slot machine! Apart from that, "Creature from the Black Lagoon" can boast outstanding 50s retro-styled graphics and a heart-pounding contemporary soundtrack giving you the genuine excitement.
All the above-mentioned movie characters appear on the slot's reels as symbols, while there is also a range of other icons on the reels, including binoculars, an oxygen tank, a waterproof camera, and knife. The game's official logo is used as a reel symbol too, and it serves as a Wild being represented in several colors, plus there are some several features symbols as well, like the Target icon, and the Free Spins icon, both being the only symbols in the game that a Wild cannot replace. As the wild symbols land on the reels, they stay there for 1 re-spin to turn into Sticky Wilds! And if 3 to 5 Free Spins icons appear just anywhere on the reels as you play, get ready to get your up to 20 free-spin reward instantly! But wait: if during the Free Spins mode, a Target symbol lands on your reels together with the Creature that appears suddenly from out of nowhere, the beneficial Spreading Wilds sequence will be launched instantly to let you boost your winnings.