Crypto Multihand Blackjack 
Multihand Blackjack Pro by B Gaming is one of the most sought-after card games in crypto online casinos. With a high RTP of 99%, big win chances, and a widened range of steps and strategies, it is particularly attractive. However, this list is incomplete. This short multihand blackjack review discloses the specifics of this blackjack variant, including its gameplay and gambling terminology, nuances of playing multihand blackjack on mobile devices and in free mode, and the most efficient strategies. Finally, you can sum up the advantages of multihand blackjack and get answers to the most obvious questions.
Multihand Blackjack Gameplay
Multihand blackjack online gameplay is very similar to basic blackjack. A player or players compete with a dealer to reach the score closest to 21 without busting. The score is counted by the received cards: 1 or 11 for an ace, nominal values for 2-10, and 10 for face cards. 
The player takes cards one by one, selecting between the risk of losing to the dealer and busting. Finally, the player opens the hand. If the score is higher than the dealer's but does not exceed 21, the player wins.
The main specific of Multihand Blackjack Pro by BGaming is the split option, which allows dividing a hand with two same-ranking cards into two. Split is offered once per shuffle. Each hand that overperforms the dealer's combination is paid. Players may interchange top cards among hands, therefore managing the scores and increasing winning chances. 
Also, multihand blackjack allows doubling bets if the player's initial pair contains a card of 9-11 points. It is a way to maximize your winnings in favorable situations.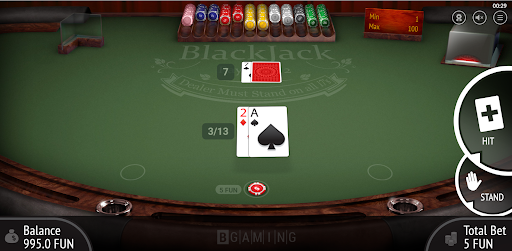 Blackjack Terminology
Bitcoin multihand blackjack pro players share the same terminology as classic blackjack fans. The following words and expressions are the most important for starting to play:
Deal — to receive an initial card pair.

Hand — a combination of the player's or dealer's dealt cards of a certain score.

Blackjack — a hand with a score of 21.

Shuffle — another name for a game round.

Bust — a round result when a hand exceeds 21, and its owner loses.

Push — a situation when a dealer and a player have the same score, and everyone gets their bets back.

Split — an option to divide a hand into two with an additional bet and taking additional cards.

Double — an option to double a bet. In

Multihand Blackjack Pro by B Gaming

, it is offered only for hands with 9, 10, 11.

Hit — a player's command to take one more card.

Stand — a player's command to finish and open the hand.
How to Win Multihand Blackjack 
In classic blackjack, the chance to win for a player is 42%, and the chance for a tie is about 8.5%, so a player does not lose in half of the rounds. In fiat or Bitcoin multihand blackjack, a split increases your chances of winning at least one hand. However, two hands with different scores require separate bets, but both are not necessarily successful. Therefore, a player may win a hand and get a tie in a shuffle. To keep winning overall, a player needs to interchange cards among the hands to strengthen them, which requires some skill. As a result, splitting hands is an extra profitable tool for pro players, while blackjack newcomers use it to even out their chances.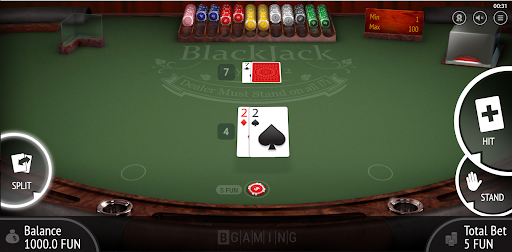 Besides split, there are three reliable strategies that can increase both winning chances and amounts:
Low-risk strategy with numerous small bets of up to 1% of a player's deposit

Martingale doubling after losses and basic bets after winnings

Fibonacci adding of previous bets after losses and backing to basic ones after winnings
In any blackjack game, these strategies are limited to a maximum bet of 100 USDT and assume a maximum of 6 losses before winning.
Free Multihand Blackjack 
The real money mode is a default offering by any online casino. However, players may also enjoy multihand blackjack free play mode on the developer's site and most online crypto casinos. In practice, the free mode differs from the real money mode in that fun coins are used as the playing currency. As a result, players cannot win real money or claim bonuses in the free mode, but the gameplay and interface, default bets, and supported cryptos are the same.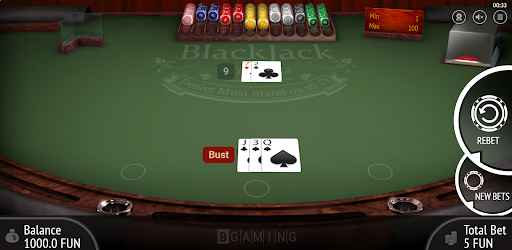 Multihand Blackjack Bonuses
Another way of free betting is to play multihand blackjack for casino bonuses. For blackjack, players may use all money bonuses and free bets for table games:
No-deposit bonuses

First deposit bonuses

Reload bonuses

Loss cashback

Loyalty rewards
Multihand Blackjack for Mobile
As a part of a casino game library, Multihand Blackjack Pro by B Gaming can be played from any desktop or mobile device with any operating system. All modern crypto casino sites are adapted to smartphones and tablets with different screen sizes, touchscreen navigation, and contemporary limited technical specifications.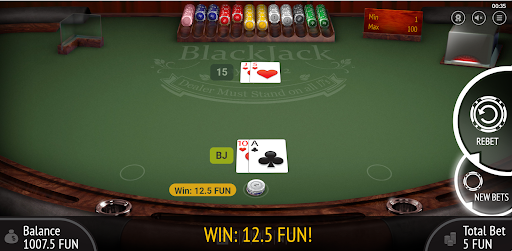 Some of the best crypto online casinos offer particular applications for Android and iOS. These are usually exact copies of the site versions but with advanced reliability and convenience. 
Bitcoin Multihand Blackjack
Advantages
| | |
| --- | --- |
| Pros  | Cons |
| Two hands increase the winning chances of a skillful player. | Needs bigger bets. |
| Able to average players' bets. | Two hands of different scores may decrease total winning amounts. |
| Split and double options. | |
| RTP of 99% | |
FAQ
How to Always Win Multihand Blackjack by B Gaming?
You can only increase your chances of winning and avoid most losses. Choose the most reliable strategy and a casino with bigger bonuses, and do not exceed your bet limits.
Can I Get Multihand Blackjack Bonus?
For free multihand blackjack bets, you may use the first or reload deposit bonus, loss cashback, and any other money bonuses and free bets for online table games in crypto casinos. 
Can I Play Multihand Blackjack Mobile Version?
Yes, all modern online casinos with multihand blackjack are compatible with smartphones and desktops on at least Android, and sometimes on iOS.
What Is Multihand Blackjack Best Strategy?
We recommend Martingale bet doubling and Fibonacci bet adding. However, no strategy can guarantee your winning.