Crypto Plinko Online
Crypto Plinko game by BGaming is one of the most popular casino games. Among tables or instant games of any online casino, there is always at least one Plinko that attracts loyal fans with its simplicity of gameplay and huge winnings.
This review covers all important aspects of Bitcoin Plinko: its gameplay and interface, specific terminology, winning odds and risk levels, free play, and mobile compatibility. Finally, it emphasizes Plinko's advantages and answers the most frequently asked questions.
Plinko Gameplay
The base of BTC Plinko gameplay is very simple. A digital ball falls into a transparent bar with a triangle field of several pin lines. Each line has one more pin than the previous one: the first line has one pin, the second has two, the third has three, and so on. 
At the bottom of the bar, there is a line with multiplier sectors ranging from decimals to dozens, hundreds, or thousands. The multiplier set is unique for each Plinko; in BGaming's Plinko, it reaches 1000x in the high-risk mode. The multiplier line is always symmetrical, with the lowest multipliers in the middle and the highest ones at the ends.
During Plinko gambling, crypto casino players can choose the number of pin lines in the triangle field and, as a result, the number of multipliers that vary from 5 to 17. The pins reflect the ball's unpredictable movement until it falls to one of the multiplier sectors. Players place bets of certain amounts before the rounds and receive winnings after them.
Plinko has manual and auto modes and allows players to place bets ranging from $1 to $100.
Plinko Probability and Risk Levels
Plinko's general RTP reaches 99%. The probability of dropping a certain multiplier depends on the number of multipliers in the appropriate line. For example, if Plinko has 17 multipliers and two of them are 16x, the chance to win 16x is 2:17 or 12%. 
In addition to the number of lines, crypto Plinko game players may choose three levels of risk: high, normal (moderate), and low. Lower risk means less volatility, which results in lower maximum multipliers and higher minimum ones:
Low risk: maximum multiplier of 16x

Low risk with a maximum multiplier of 16x

Normal risk with a maximum multiplier of 110x

High risk with a maximum multiplier of 1000x
Plinko Tips and Strategies
Bitcoin Plinko is a game of pure luck, and each valid strategy is based on managing bet amounts. The most reliable strategies are:
Choosing the low-risk mode to have small but sure contemporary winnings.

Using the Martingale strategy by doubling bet amounts after losses and returning to basic bets after winnings.

Using Fibonacci's strategy, which involves summing up previous bets after losses and returning to basic bets after winnings.
Besides the general strategies, professional Plinko game Bitcoin players have several tips for decreasing losses and getting more frequent winnings: 
Choose your risk level based on your wallet: the higher the risk, the smaller the bets you can afford.

Select casinos that offer generous money bonuses and risk-free bets for table and instant games.

Set money and time limits per session and never exceed them.

Your single bet should not exceed a few percent of your daily playing funds: up to 5% for a low-risk mode and up to 1% for a high-risk one. 

Never chase losses and never spend on gambling the money for primary needs.

Train for free for at least 10 minutes before playing for real money. 
Plinko for Free
For Plinko, crypto casino sites allow players to play for free, in most cases even without registration. The free mode is a good way to find out if you like the game, train your Plinko skills, check the efficiency of a certain strategy, or just enjoy the gameplay — all without spending money. However, players need to place a bet using real cryptocurrency for two main purposes: to win real money and to receive casino bonuses.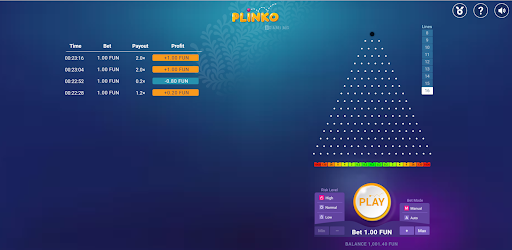 Plinko Crypto Casino Bonuses
Casino bonuses may pay for a player's gambling at least partially. For Plinko, crypto casino sites offer all money and free bet bonuses of all main sorts:
No-deposit rewards

First deposit and crypto reload bonuses

Loss cashbacks

Rewards for unlocking VIP levels
Look for crypto casino bonuses in the promotions section.
Mobile Plinko
Plinko Bitcoin game can be easily played on mobile devices as part of an online casino library. All modern casino sites are compatible with mobile devices with any OS, making it convenient to play on a touchscreen of any size and fast on a device with any technical characteristics. Additionally, the best and most successful online casinos develop individual mobile applications for Android and iOS, with additional reliability and higher adaptivity.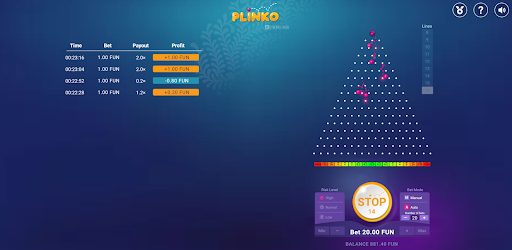 Bitcoin Plinko
Advantages
| | |
| --- | --- |
| Pros  | Cons |
| Easy gameplay. | No jackpots. |
| Flexible risk management with several tools.  | |
| Winnings of up to 1000x. | |
| Quick game rounds. | |
FAQ
How to Play Bitcoin Plinko Online?
Place a bet of a certain amount and click a play button to start a round. The dropping ball lands in a multiplier sector, and you receive your winnings.
What Is the Best Plinko Strategy?
Martingale is the optimal strategy for Plinko. It means doubling a bet after each loss and rolling it back to the basic amount after each win.
Where to Play Free Plinko Casino Games?
Look for Plinko in the sections of table games, lotteries, or instant games on online casino sites.
How Can Plinko Probability Be Explained?
In general, to calculate the probability of dropping a precise multiplier, divide the total number of multipliers by the number of this multiplier. Also, Plinko has three risk levels with different probabilities and related odds.