SpaceXY BGaming Review | How to Play & Win in SpaceXY
Crash games remain one of the top casino choices for gamblers worldwide. These games lure them with their simplicity, the elegant minimalism of design, and hot prizes. This review invites you to play one of the best crash releases from BGaming – SpaceXY.
The game works just within the crash genre, and its rules are very easy to learn. Yet, you must choose a strategy to play the video slot successfully. Use our guide to hack the SpaceXY tricks.
The Essence of SpaceXY from BGaming
You're going to play a typical crash game. Its core element is the display with the X-Y coordinate system and a space rocket ready to start from the zero point. The game is live; that is, sessions go one after another in an automatic manner, and numerous players can join each of them.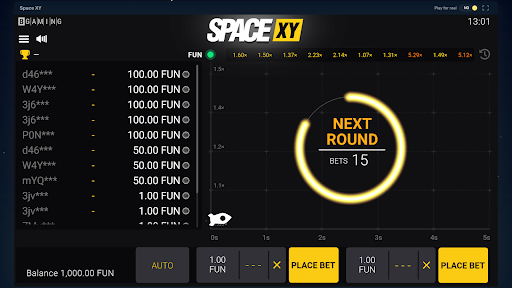 The video slot has an appealing design with a soft, enchanting soundtrack. Its interface is simple and clear. It contains a betting panel, player statistics, and the history of recent winning odds.
SpaceXY Rules
Before a SpaceXY slot round begins, you need to prepare both your bets and attention. As soon as the spaceship starts off, so does the multiplier – you'll see its number rise together with the jet. The goal is to cash out your bet before the inevitable crash. If you manage to do it in time, you win.
SpaceXY is an advantageous crash game since it offers such features as these:
two bets at once;

auto bets & cashouts;

free rounds;

odds history;

a betring range of $1-$100 per bet.
So, you can place two different bets per session in the SpaceXY crash game. The maximum bet available in this case is $200. You are also free to collect them at different times.
Of course, you'll need a double-fast reaction, too. However, you can opt for auto mode and preset from 5 to an unlimited number of auto sessions. As to cashouts, you can also predetermine the multipliers with which your bets will be collected automatically.
While you play the SpaceXY casino game for real cash, it can grant you a free round. Only one bet is accepted in it. You won't pay for it from your own funds. The bet amount will be the same as the one you had in the session in which you triggered a free round.
RTP & Max Win
The slot's average RTP is 97.9%. In fact, it ranges from 96.88% to 98.92% and depends on the strategy chosen. The highest multiplier you can get is x10,000. However, the largest prize you can grab from the game is €250,000.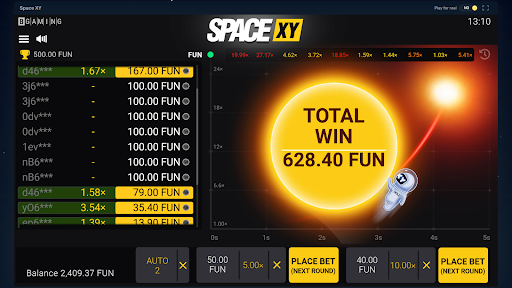 How to Start Playing SpaceXY for Real Money
A decent SpaceXY casino with advanced services is only needed to enjoy the crash game for real money. The steps you need to take to start betting include the following:
Open an account with your chosen online casino.

Top up your balance with some cash.

Claim a bonus to improve your bankroll (optional).

Launch the game and be quick with your bets. Remember, you can place two of them.

Watch the rocket's flight and cash out before the crash.
You can simplify the process by fixing auto bets and cashouts for your sessions. Money won during your sessions will hit your balance at once.
SpaceXY Free Play
Want to try the SpaceXY free game before placing real cash on it? No problem. The slot goes with a demo, and it is easily accessible in most top casinos. Players can explore it with no account. No deposit is needed either.
During for-cash sessions, you can also expect free rounds. Their number depends on the casino. While playing a round for free in real money mode, your funds are not written off.
Choose Your SpaceXY Strategy to Win
Although there's no sure way to win money in the crash game, every player can enhance their chances with the help of a certain SpaceXY strategy. There are two main approaches. According to one of them, you need to bet a higher bet and cash it out as fast as possible.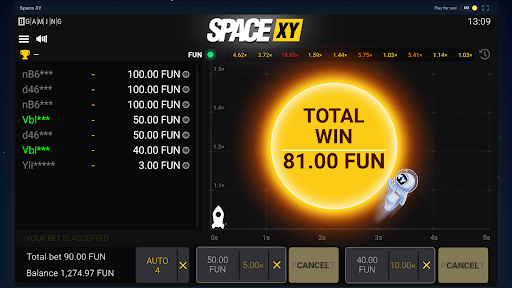 The second strategy presupposes lower bets on high multipliers. It is riskier, but if you win, your prize will be significant. Finally, you can combine both strategies, as well as use the game's history to learn its patterns.
About BGaming
The creator of the SpaceXY slot is a well-known brand. It has been present in the industry since 2012. It's seen as the #1 crypto casino supplier in the world. Each of its 100+ games is fair and highly entertaining. All software is licensed by the MGA and has certificates from iTechLabs.
FAQ
Can I Win Real Money in the SpaceXY Crash Game?
Yes. The SpaceXY casino slot can be played for real money. The game is fair and based on a certified RNG.
What is the SpaceXY RTP?
BGaming offers a range of RTP percentages for its release. It can vary from 96.88% to 98.92%. Your gaming strategy also affects the final RTP you get in the game.
Is SpaceXY Available for Free?
Yes, the video slot has a demo, and you can try it at top casinos or on the BGaming official website. Moreover, you can get free rounds in the real cash variant of the slot, too.
What is the Highest Payout in the SpaceXY Game from BGaming?
The largest prize a player can win in the crash slot is €250,000.
How to Play SpaceXY?
The SpaceXY slot begins as soon as you click on the game's banner. You should be ready with your bet(s) before the actual round starts. As the rocket rises, so does the multiplier. Be reasonable at collecting your bets. You only win if you do it before the crash.