This brilliant video slot game by MicroGaming is a true must-have in every Bitcoin gambling website's collection. Enjoy it instantly in casinos from our review list!
Available with either 15 or 243 pay-lines, "Game of Thrones" slot is a genuine virtual gambling masterpiece. The slot is based on the eponymous TV hit adapted from George Martin's best-selling book series called "A Song of Ice and Fire".
In the game's free-spins mode triggered by lining up three scatter symbols with GoT logo on them you are free to join one of the four great Houses of Westeros, each have their own very special traits and particularities, including certain reward amounts in free-spins, stacked symbols and multipliers, making the further gameplay truly remarkable for you.
By siding with the Baratheon House you are getting 8 free-spins and a x5 multiplier, plus 3 Sigil stack symbols. If you decide to join the House of Lannister, prepare to be rewarded with as many as 10 free-spins, a x4 multiplier, and 4 Sigil symbol stacked up. Alternatively, the Stark House welcomes you with 14 free-spins, a x3 multiplier, and 5 Sigil symbols stacked 5 up. Eventually, you can choose the Targaryen House and get 18 free-spins, a x2 multiplier, and 6 Sygil symbols stacked 6 up!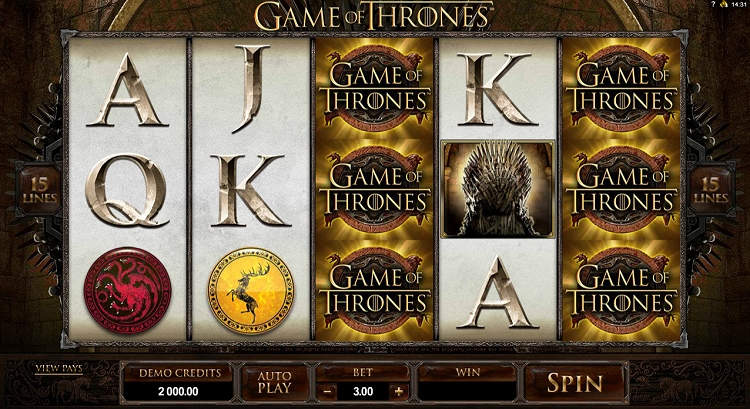 Then, every time you hit another three scatter symbols with GoT logo during any feature, you can re-activate it again! The magnificent Scatter Bonus is triggered every time you hit 2 scatter symbols anywhere on the reels, and it can help you gain some cash winnings if you happened to get none during the free-spins mode.
If there's something else you are expecting to get from the "Game of Thrones" slot, how about the in-game Gamble Trail feature? It can help you easily double up your winnings up to 4 times while watching the scenes from the TV series wandering around the kingdoms of the Known World!
If you're a real fan of the "Game of Thrones" books and series, you're simply going to fall in love with this marvelous video slot!