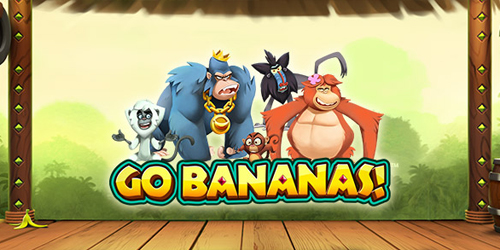 Humans are the smartest primates, aren't we? But are we the luckiest too? Try and win your share of the bitcoin prize in this monkey-themed game!
Enjoy this laughable NetEnt-developed video slot machine with cool cartoon graphics and true-life sound! With its 20 paylines on 5 reels, "Go Bananas" is highly rewarding, and offers some real virtual casino gaming for bitcoins. The prizes in this game are impressive, and they are more than likely to become yours if you're bold and persistent! But relax, even if you're not, you can still win a hefty BTC prize in this great game! The final prize you get away with may amount to some x700 times of your initial stake, and that's a lot really!
As you play and make up paying combinations from symbols including fruits, diamonds, and various stuff with primates depicted on it, the apes and monkeys will celebrate your little triumphs with jiggly dance moves, with each of the primates dancing in their own distinctive manner. The selection of reel symbols includes 5 different Wild monkey icons, including the Wild Orangutan, the Wild Baboon, the Wild Langur, the Wild Tarsier, and the Wild Gorilla. Whenever any of them appears on your reel grid, they will turn reel symbols surrounding them into extra wilds, creating more and more priceless opportunities for you to boost your prospective winning in this slot game! Just as in wild nature, the Wild Gorilla is the most powerful of all the wilds in "Go Bananas", with the potential of getting you four extra wilds to any paying combo you achieve. Other than that, you may want to look out for dancing Wild Baboons as well, as dealing with them may turn out to be very beneficial too!
Although there is no free spins offered in this slot machine, there aren't any reasons for you to feel unhappy about it, as winning spins happen frequently enough in "Go Bananas"!