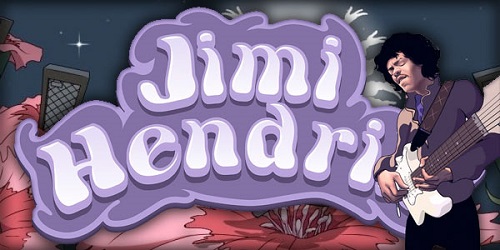 The true rock legend lives forever, and NetEnt has no doubt about it! Meet Jimi himself in their latest ground-breaking rock-music themed machine!
Many of us, especially the fans of one of all-time greatest rock musicians, have waited long months for this immense slot game to finally be released, and, within the past weeks, it eventually made its way to world's top-rank online betting portals!
Being one of NetEnt's latest digital masterpieces, "Jimi Hendrix" slot machine gets us into the rebellious mood of late 60s when the young legend ruled the stage, hence the funky and groovy looks of this game, peppered with cool 3D animations. And yes, it would have a complete no-no if Jimi's hit songs hadn't been used as the soundtrack in it!
There are as many as 20 paylines on the slot's 5 reels, and the symbols these can be made of include a set of items that we would readily associate with those times: vinyl records, peace signs, flowers, eyes, rock guitars, and hearts serving as higher value symbols, while playing card icons from 10 to A stand for lower-paying ones.
All in all, there are six (!) various features to benefit from in this wondrous slot machine, with two of them – wilds and re-spins- available in the base mode already: the wilds and re-spins. These are quite standard, as you're very likely to get them in lots of other virtual slots, but what comes next can be found exclusively in "Jimi Hendrix". By the way, most of the features are named after Jimi's most iconic songs, and all of them are present in the game's playlist.
The main feature of the slot is called Pick and Click, and it can be launched by landing 3 Jimi Hendrix guitar 'angel' symbols anywhere on the reels. What it unlocks for you is the picking game where you need to click a pile of loudspeakers to reveal one of the 4 available prizes awaiting you:
– a massive coin win (achieved by picking three coin symbols) amounting to dozens of bitcoins, coming together with an impressive up to x30 initial bet multiplier
– Crosstown Traffic free-spins (achieved by picking three Orange Haze symbols) that gets you 6 spins extra. In the free-spins mode, every spin comes with up to 2 wilds falling upon the reels, and you should expect the wild reels to switch their position.
– Purple Haze free-spins prize (achieved by picking three Purple Haze symbols) that gets you 6 to 12 spins extra. On top of it, during each free-spin, there will be another Jimi Hendrix Purple Haze symbol landing on the reels to help you score and even bigger winning!
– Little Wing free-spins prize (achieved by picking three Blue Haze symbols) that gets you 6 to 12 spins extra. What you may benefit from this time is up to 5 overlay Wilds Symbols randomly landing on the reels as you play to get your coin standings a proper boost.
The two remaining special features of the "Jimi Hendrix" slot are the Purple Haze and Red Guitar Re-Spins. During the former, Jimi comes up with a fantastic guitar solo, and if you are lucky enough to land the Purple Haze icon on the reels, there will be three rewarding Wilds sent to random spots on the reel grid. Things get even more intriguing with Red Guitar Re-Spins, as this is the mode that actually launches the main free-spins sequence of the game (well, the name implies). To have this done, you need to land to fewer than four of Jimi's trademark red guitar symbols on the reels, and if you happen to land some more of them during each re-spin, this feature will be restarted to run for as long as red guitars appear on the grid. Expectedly enough, you just have to expect some really astounding prizes to be credited to your balance!