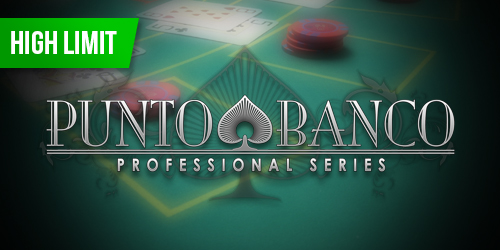 Find NetEnt's cream-of-the-crop Punto Banco Pro game series on the leading Bitcoin gambling websites, with bet limits reaching a staggering 5000 mBTC
This marvellous creation of NetEnt's digital wizards is there to make your casino gaming experience complete! One of the greatest card games of all times is now fully available to be played for real bitcoins on world's best crypto gambling websites, and you're absolutely welcome to start enjoying it already now.
NetEnt's Punto Banco Pro is highly impressive in all possible terms, including the realistic gaming interface with astonishing graphics resembling a real-life punto banco table. Your gameplay is accompanied by wonderful chilling jazz-like music creating the atmosphere of luxury and glamour. In order to help you get yourself more accommodated to the gaming environment, the provider made the dealing and action speed fully adjustable (from the slow-as-a-snail 1 to the quick-as-thought 9).
Being a fan of classical games of chance in either their brick-and-mortar or virtual form, you are more than likely to have high regards for punto banco, the outstanding and most popular variety of the glorious game of baccarat. And we bet you'll be really excited to learn that Punto Banco Pro we're speaking about here belongs to the legendary "Professional" online casino game series by NetEnt, the top level gaming content developer.
Where does the game's name come from? Well, that's really simple. Punto and banco stand for "player" and "banker" respectively, both being just the names of the two possible outcomes of each coup.
Being not so much different from baccarat in terms of playing rules and complexity, punto banco is also a game that is played between two parties: the player and the casino (or, the banker), but, unlike what you may have got used to in baccarat, the casino banks the game at all times in punto banco. You, as a gambler, have no association with "the player"; neither is "the casino" anyhow linked to the house.
As you play, you need to make predictions and wager on one of the three eventual outcomes of each coup (round):
– the player's hand wins
– the casino's hand wins
– both parties have hands of equal value, and neither of the hands wins. The round ends in a tie.
There are six regular decks in the card shoe, with the latter shuffled properly before the start of every consecutive round. Both parties share the common goal to achieve a hand value as close to 9 as possible, and whichever of them succeeds in doing so first, becomes a winner in this round. At the beginning, both the player and the banker are dealt two cards each. The cards are dealt face up.
I any of the parties scores 8 or 9 (the so-called "natural" is reached), their hands stand, or, if neither of them has a hand of this value, the game is played according to pre-determined rules, with the third card drawn by either parties under certain conditions.
On most Bitcoin casino gaming portals, NetEnt's Punto Banco Pro series includes a set of three functionally identical games that, nevertheless, have different betting limits. You get an entry-level Punto Banco Pro Low Limit with bet limits ranging from 0.5 to 50 mBTC, a regular Punto Banco Pro version of the game with bets from 5 to 500 mBTC available, and the High Limit game variety with bets from 50 to up to 5000 mBTC (5 BTC) available!