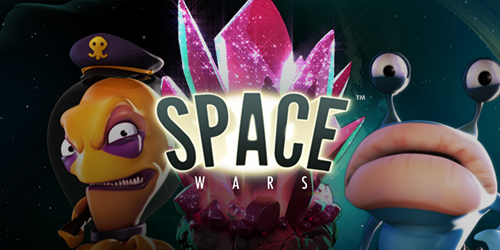 Alien invasion has never looked that humorous! Try not to burst with laughter in this one-of-a-kind beneficial virtual slot machine by NetEnt!
The events in this laughable NetEnt-developed video slot game with 40 paylines on 5 reels take place in the future, in a universe populated by aggressive yet funny alien creatures. While there are no traditional reels in this graphically astounding slot, these aliens actually make up the symbol grid in it, divided into vertical column. As a result, when you hit the spin button, these columns start whirling downwards changing the alien symbol patterns and letting you construct prize-rewarding combos to a rousing music and some really funny sounds.
"Space Wars" is slightly different from many other slot machines you can play today in the sense it offers, among other features, a re-spin option for each winning combination you make. As you play, one of your primary amusements is capturing the aliens, with every three or more of them matched together on the reels trapping one for you. Also, pay special attention to the cloning device you can see next to the symbol grid, because what it does is cloning the aliens and in that manner rewarding you with extra re-spins. The latter are accumulated on your spin balance with every winning combo you've been able to construct, and, as a result, there will be much greater possibilities for you to grab a huge final prize in this game!
A big symbol with the word 'WILD' on it is very likely to land on your reels in the course of gameplay, and it doesn't any special introduction. Traditionally, it steadily substitutes all other reel symbols, and one of its special feature is stacking possibility! Indeed, this will help you earn bonus points more easily in "Space Wars". What's even more intriguing is the fact this feature also applies to all other alien symbols, meaning you can actually stack all the symbols on the reel grid! That's just fantastic!