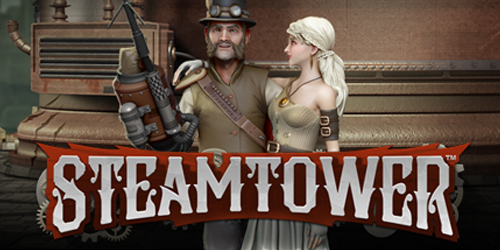 This time, NetEnt really made the day for steampunk and Victorian era fans releasing their tremendous one-of-a-kind slot machine called "Steamtower".
The game has 5 reels and 5 paylines, and it will become a true delight for you with its 3D graphics and Sherlock Holmes movies styled soundtrack!
As you play the game, you main objective is to push your way upwards to the very top of the gigantic tower (hence the name) to eventually save the fair princess from the atrocious dragon-like beast. In the regular game mode already, you will be able to trigger the free-spins round with the help of the stacked wild symbols as one or more of these appear on the reels. An additional 2 free-spin bonus awaits you instantly on the tower's ground floor, but you'll need to land a pair of wild on the reels to get it, just to immediately unlock the consecutive level with even more impressive prizes for grabs!
Up until floor 3, a standard x2 multiplier will be applied to your wins, while on floors 4, 5, and 6 the winnings will be tripled, and even quadrupled on floors 7 to 9. Then, you will be eligible for the staggering x5 multiplier active on levels 10-12, and even a bigger x6 booster on floors 13 to 15. Finally, when you reach floor 16, your coins will be multiplied by 7!
There will be a set of helpful things you'll be able to come across when climbing up. The first is the Floor Meter, and it will help you learn the current number of the level you're on at the moment. Then, you'll need the Multiplier-meter to be aware of the actual coin booster value to calculate the possible winnings after the final round.
What you should know also is that with every free spin you earn during the gameplay, you will reach a higher floor, up until the tower's top where an exclusive 1,000 coin reward will be given to you. Overall, the free-spins feature is responsible for the most breath-taking wins in "Steamtower", with final prizes up to 2,000 times the size of your initial stake awaiting you!