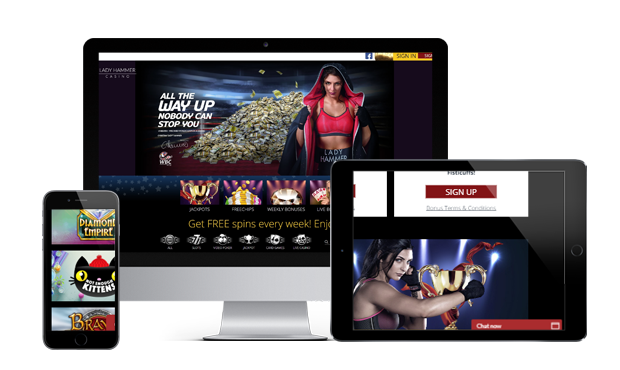 Named after the famous boxing champion Christina Hammer, which implies reliability trustworthiness, and an insatiableness to win, Ladyhammer casino is one of the newest online casinos that offer a variety of games from mobile games, virtual games, and live casino games. Also considering their generous bonus packages and several other pros, this is one place every avid casino gamer needs to try out. You never know, "it might be your time to shine" like it is the motto of the Ladyhammer casino. Now let's consider other features of the casino.
Lady Hammer casino in a nutshell
Amidst the numerous games that are available on its menu, Ladyhammer is one casino that permits both fiat and cryptocurrencies like Bitcoin. Also with over ten popular payment gateways, allowed for cash outs or cash in, this casino is a lot faster than many other virtual casinos. To wrap it all up, Ladyhammer Casinos is one place every avid online gambler would wants to stake their cash for a bet as well as have a pleasurable share of their time and money.
Ladyhammercasino.com website layout
All laid in a space-dark background, the game tabs and icons project a warm and intense star-like brightness from its late night background, giving you a feeling of the star wars movie. The site is well adapted for mobile as well as for P.C devices; although the User Interface looks cluttered, especially for the mobile version; however, the menus and tabs are very responsive. Finally, except in places with reliable internet connection, the pages take a lot of time to load, due to the rich and heavy graphics on its pages. However, if you are sure of good and steady internet connection, navigating through the site would be like a journey into space across the stars and all the celestial colorfulness in outer space.
Finally, its language option, at the moment of this review, is Russian, German, and English, which somehow limits its fan base to players within that demography. However, considering the age of the casino, there is the expectation for new language options to be added on.
Lady Hammer casino bonuses
Starting with an automatic 100% welcome bonus of up to 100 Euros plus 50 extra fisticuff spins, for every first deposit, there are also several periodical giveaways all in varying degree, for different levels of participation on the site. Other bonuses are:
Second deposit bonus: this is an instant 50% bonus up to 100 Euros and an extra 50 fisticuff spins.
Third deposit bonus: this is a 70% giveaway up to 200 Euros plus 30 extra fisticuff spins.
Other gifts include ten additional free spins on signup, a 25% speed-jab up to 100 Euros every Wednesday and a giveaway Sunday spins for a 20 Euros minimum deposit.
Ladyhammer casino deposit and withdrawal methods
Despite her age, this casino is packed with as much as twelve payment gateways, with leading payment gateways like MasterCard, Visa, Neteller, Maestro, and several others. At Ladyhammers deposit and payoff are done instantly, except in cases where there are little hitches. The minimum withdrawal limit is 20 Euros and a maximum of 10,000 Euros, for almost its entire payment gateway, except for Cubits which is Bitcoin enabled, with a minimum of 0.001BTC and a maximum of 15btc. Also, there is a maximum withdrawal limit of 2,500 Euros per week.
Lady Hammer Casino software and games
Having over 19 game providers, with games ranging from live games, online slots, video poker, jackpots, card games and live casinos, Ladyhammers offers an assortment of over 2,100 games ranging from classic casino games to sports games and several others. Also, most of their games are developed with a license that permits the games to be hosted exclusively on Ladyhammers website. Furthermore, several of her games will be considered unconventional, for a classic online casino, since they are off the charts of regular online casino status-quo, giving its players a feeling they sure will not get anywhere else.
Ladyhammer casino customer support
Unlike some other online casinos, her support tab opens her visitors to a lot of contact options ranging from Email, live chats to her social media platforms. Also, the support tab is just a click away, on its drop-down menu and in the footer menu, to the support team.
The FAQ section, which is also present in the drop-down and footer menu offers a good option for quick fixes and "do it yourself" solutions. So before you fill in that contact us form in a hurry, you should be sure to have checked the FAQ section to see the likely cause of the problem and probably the best course of action offered for the said problem.
Lady Hammer casino mobile platform
While there is no mobile app for its website, the site is designed to be compactable to mobile devices, since it is developed with HTML5, making it compactable with iPhones, Android devices, and Window phones; although the graphical content on its pages makes it a bit difficult to load, especially in cases of poor internet connection.
Ladyhammer casino restricted Countries
Considering the legislation in certain jurisdiction around the world, this site cannot be assessed in countries whose laws are in contrast with Ladyhammers mode of operation. Some of these countries include France, Spain, United Kingdom, the United States and its territories.
Security at Ladyhammer casino
With a good SSL encryption and strict compliance with data protection and privacy laws, players are sure to have optimum protection of all their sensitive data and assets in the site's custody. Also, the site has good firewalls that help shield its database from the encroaching of malicious malware.
Finally, her game software developers are known for the development of games that are reliable and trustworthy, considering their reputation in the game development industry.